Happy Johnson
Posted in Past Guests | Tagged G-M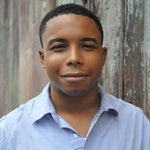 Following Hurricane Katrina, Happy Johnson served with the K44 Disaster Relief Unit of the American Red Cross Chapter of Southeast Louisiana, driving Emergency Response Vehicle #1081. At the conclusion of his service as a Hurricane Katrina First Responder, Johnson founded Blanket New Orleans, NFP while a junior in college. From 2005 to 2009, Blanket New Orleans provided humanitarian relief to storm survivors and served as a leading national advocate for the city's recovery. After graduating from Georgetown University in 2007 with a B.A. in International Relations and American History, Johnson also served a 1 1/2 year term as an AmeriCorps Volunteer restoring homes and schools.
Johnson is currently a basketball coach at Lafayette Academy, and a member of the City of New Orleans MLK Holiday Planning Commission, New Orleans Jazz Institute Advisory Board and Georgetown University Alumni Admissions Program.
He directs TEAMHAPPY.ORG and is the author of a children's book teaching teamwork, leadership & sustainability.
---
Media
Literacy, Literature and Democracy | April 7, 2010
Writing Beyond Catastrophe: Literatures and Cultures of National Revival in Post-Katrina America