Daniel Berrigan
Posted in Past Guests | Tagged A–F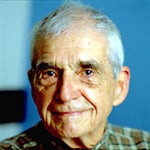 Daniel Berrigan is a Jesuit priest, poet and peace activist. From 1970 to 1995 Berrigan spent nearly seven years imprisoned for various offenses related to his protest against war in relation to his moral convictions as a Jesuit. His writing includes Prison Poems and And the Risen Bread: Selected Poems, 1957-1997. He has been awarded by the War Resisters League, Pax Christi, and The Peace Abbey Courage of Conscience.
---
Great God Paused Among Men
and spoke: coopers, craftsmen, shepherds
blessed is the prophet
whose blood speaks in his stead. Search death out
and sought death in their cities, and was taken
young years and all, and composed in ground
like wintering bees
and after respite stood again
to show in tremendous mime—shut doors sprung,
permeable world,—all man would come to.
---
Links
​