Craig Santos-Perez
Posted in Past Guests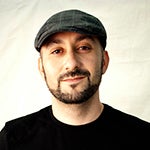 Dr. Craig Santos Perez is a native Chamorro from the Pacific Island of Guam. He is the co-editor of two anthologies of Pacific literature, co-founder of Ala Press, and the author of three books of poetry, most recently from unincorporated territory [guma'], which received the American Book Award in 2015. He holds an MFA in Creative Writing from the U of San Francisco, and a Ph.D. in Ethnic Studies from the U of California, Berkeley. He is an associate professor in the English department and affiliate faculty with the Center for Pacific Islands Studies and the Indigenous Politics Program at the U of Hawaiʻi, Mānoa.
---
SPAM's Carbon Footprint
Guam is considered the SPAM® capital of the world. On average, each Chamorro consumes 16 tins of SPAM® each year, which is more per capita than any country in the world. Headline: Guam Struggles to Find Its Roots From Beneath Growing Piles of SPAM®. Guam, Hawaii, and Saipan have the only McDonald's restaurants that feature SPAM® on the menu. I went to the "World's Largest K-Mart" in Guam and I was amazed at the SPAM® display…it was like a whole "Wall of SPAM®." SPAM® has a place not only in the stomachs of Guam's people, but in our hearts as well. Here SPAM® is considered a gourmet luxury and is often presented as a gift at birthdays, weddings, and funerals. Hormel even made a Hot and Spicy SPAM® especially formulated for Guam with Tabasco already added to it! A culinary legacy of American troops stationed in the Pacific during World War Two, the GIs noticed how much the people of Guam loved SPAM®, so they started to jokingly call it "Chamorro Steak." Not coincidentally, SPAM® is also popular in Hawaii, the Philippines, Okinawa, and Saipan, all places with a history of a U.S. military presence. In fact, SPAM® may have been responsible for Hitler's defeat. The Allies would not have won WWII without SPAM®. Plus, it's processed so I guess we can keep it forever right? Wow, I haven't seen this much SPAM® since I lived on Guam and the car dealership there started offering 50lb bags of rice and cases of SPAM® with every purchase. The end result can be found in the newspaper's obituary pages. In 2004, Public Health reported that heart disease was the leading cause of death on Guam, representing 33.7% of deaths. You can rub the entire block of SPAM®, along with the accompanying delicious gelatinous goo, onto wood furniture. The oils from the SPAM® moisturize the wood and give the furniture a nice luster. Plus, you'll have enough left over to polish some of your neighbors' furniture. You'll be like Santa Claus meets Mr. Clean. How did I miss hearing about the "In Honor of Guam's Liberation" SPAM®! I thought I had collected them all! But as I got older and tried to be "healthier" (whatever that means, haha), SPAM® faded from my consciousness. Then I met my future wife, who is Hawaiian, and SPAM® became part of my life again. Maybe the economic downturn will help people truly appreciate SPAM® instead of loathing it. SPAM® doesn't have to be unhealthy. I eat SPAM® on a regular basis and I'm not dead yet. Just switch to SPAM® Lite. In the devastating wake of Typhoon Omar, SPAM® arrived. Hormel Foods donated 40,000 cases of the belly-filling foodstuff to the Salvation Army's disaster relief effort. That's about six million SPAM®burgers! Despite rumors, SPAM® is NOT made of such odds and ends as hooves, ears, brains, native people, or whole baby pigs. SPAM® is for realz made of pork shoulder, ham, salt, water, sugar, and sodium nitrate, if you can belief it. The name itself stands for Specially Processed Army Meat, Salted Pork And More, Super Pink Artificial Meat, Squirrel Possum And Mouse, or Some People Are Missing. My uncle is the reigning Guam SPAM® king. He won the last SPAM® cook-off with his Spicy SPAM® meatballs. I will never forget the two-pound SPAM® bust of George Washington he made for Liberation Day, toasted crispy on the outside with raw egg yolk in the hollow center. The kids loved it! Only a fool would start a company in Guam that provides SPAM® protection. We don't want to be protected from SPAM® bots. For Xmas, I bought a SPAM® snow-globe featuring a can of SPAM® sitting on an island; turn it over and a typhoon swirls madly, unable to unseat SPAM® from its place of honor. I have a souvenir can I bought after seeing Monty Python's SPAM®ALOT on Broadway. It cost me $10 and is the most expensive SPAM® I've ever bought. I will never eat it.
–
From Poets.org
---
Links
---
Media
Seminar with Don Mee Choi | October 4, 2016
Reading with Don Mee Choi | October 4, 2016