Chris Abani
Posted in Past Guests | Tagged A–F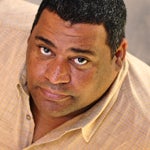 Chris Abani published his first novel, Masters of the Board, at the age of 16, for which he received Nigeria's Delta Fiction Award and his first prison sentence. This would prove to be a pattern: Abani was incarcerated twice more, first following the publication of his novel Sirocco and then for his anti-government plays, which earned him death row sentence. Abani escaped before his execution and lived in exile in England for several years before arriving in the U.S. in 1999.
Abani is best known for his award-winning novel Graceland, the story of Elvis Oke, a teenaged Elvis impersonator navigating the challenging streets and conflicting identities of Lagos, Nigeria, which received the Hurston/Wright Legacy Award for Debut Fiction and PEN Hemingway Book Prize in 2005, among other accolades. His other work includes numerous books of poetry, such as Kalakuta Republic, Daphne's Lot and the recently published Sanctificum. Abani is a professor at the University of California, Riverside and the recipient of the PEN USA Freedom-to-Write Award, the Prince Claus Award, a Lannan Literary Fellowship, a California Book Award, a Hurston/Wright Legacy Award, a PEN Beyond the Margins Award, the PEN Hemingway Book Prize & a Guggenheim Award.
---
In the Middle of Dinner
my mother put down her knife and fork,
pulled her wedding ring from its groove,
placing it contemplatively on her middle
finger. So natural was the move,
so tender, I almost didn't notice.
Five years, she said, five years, once a week,
I wrote a letter to your father. And waited
until time was like ash on my tongue.
Not one letter back, not a single note.
She sighed, smiling, the weight gone. This
prime rib is really tender, isn't it? she asked.
---
Media
Literacy, Literature and Democracy | April 7, 2010
Writing (and Working) Beyond Genocide:
Literary, Cultural and Social Activisms in a Changing Africa, Session I
Literacy, Literature and Democracy | April 7, 2010
Writing (and Working) Beyond Genocide:
Literary, Cultural and Social Activisms in a Changing Africa, Session II
Literacy, Literature and Democracy | April 7, 2010
Writing (and Working) Beyond Genocide:
Literary, Cultural and Social Activisms in a Changing Africa