Charles Bernstein
Posted in Past Guests | Tagged A–F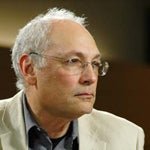 Born in New York and raised in the Bronx, poet and scholar Charles Bernstein published his first volume of poetry, after graduating from Harvard University, in 1975. From 1978-1981, he co-edited the magazine L=A=N=G=U=A=G=E and also published three more books. At the University of Buffalo, Bernstein served as the David Gray Professor of Poetry and Letters from 1989-2003. While there, he also co-founded the Poetics Program and served as its director. His honors and awards include fellowships from the New York Foundation for the Arts and the Guggenheim Foundation as well as the Roy Harvey Pearce/Archive for New Poetry Prize of the University of California, San Diego.
---
From A Test of Poetry
What do you mean by rashes of ash? Is industry
systematic work, assiduous activity, or ownership
of factories? Is ripple agitate lightly? Are
we tossed in tune when we write poems? And
what or who emboss with gloss insignias of air?
Is the Fabric about which you write in the epigraph
of your poem an edifice, a symbol of heaven?
Does freight refer to cargo of lading carried
for pay by water, land or air? Or does it mean
payment for such transportation? Or a freight
train? When you say a commoded journey,
do you mean a comfortable journey or a good train
with well-equipped commodoties? But, then, why
do you drop the 'a' before slumberous friend? And
when you write, in "Why I Am Not a Christian"
You always throw it down / But you never
pick it up—what is it??
—
Continue reading "A Test of Poetry" on The Poetry Foundation's website.
---
Links
---
Media
Reading with Erica Hunt | October 17, 2002
Oppositionality as Social Value