Carl Phillips
Posted in Past Guests | Tagged N-S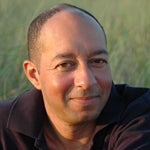 Carl Phillips was born in 1959 in Everett, Washington. He is the author of nine books of poems, most recently The Rest of Love (2004), Riding Westward (2006), and Quiver of Arrows: Selected Poems 1986-2006 (2007), as well as a translation of Sophocles' Philoctetes (2003) and a book of prose, Coin of the Realm: Essays on the Art and Life of Poetry (2004). His poems, essays and translations have appeared in journals such as The Nation, The Paris Review, and The Yale Review.
"Carl Phillips is a master of expressive syntax, athletic turns of sentence that mime feeling," writes Poet Laureate Robert Pinsky. "His distinctive sentences, with their parentheses of meditation, their cunning asides, suspended parallels and affecting divagations, are a little bit like Latin and a little bit like intense conversation, with its allusive, mothlike movement." He is a graduate of Harvard University and the University of Massachusetts, Amherst, and his awards and honors include The Kingsley Tufts Poetry Award, two Pushcart Prizes, the Theodore Roethke Memorial Award, an award in literature from the American Academy of Arts and Letters, and fellowships from the Guggenheim Foundation and the Library of Congress. The recipient of the Chancellors Fellowship from the Academy of American Poets, Phillips was himself named a Chancellor of the Academy in 2006. He is a professor of English and of African and African-American Studies at Washington University in St. Louis.
---
Aubade: Some Peaches, After Storm
 
So that each
is its own, now–each has fallen, blond stillness.
Closer, above them,
the damselflies pass as they would over water,
if the fruit were water,
or as bees would, if they weren't
somewhere else, had the fruit found
already a point more steep
in rot, as soon it must, if
none shall lift it from the grass whose damp only
softens further those parts where flesh
goes soft.
There are those
whom no amount of patience looks likely
to improve ever, I always said, meaning
gift is random,
assigned here,
here withheld–almost always
correctly
as it's turned out: how your hands clear
easily the wreckage;
how you stand–like a building for a time condemned,
then deemed historic. Yes. You
will be saved.
---
Media
Reading with Cole Swensen | November 15, 2007