Bill McKibben
Posted in Past Guests | Tagged G-M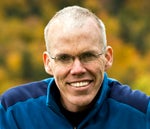 Writer and environmentalist Bill McKibben is the founder of 350.org, the first global grassroots climate change website. His first book, The End of Nature (1989), has appeared in 24 languages, and he has written more than a dozen books about the environment. Recipient of the Gandhi Peace Award in 2013, McKibben is the Schumann Distinguished Scholar in Environmental Studies at Middlebury College. His writing can be found in New York Review of Books, National Geographic, and Rolling Stone. He lives above Lake Champlain with his wife, writer Sue Halpern.
---
from A Call to Arms: An Invitation to Demand Action on Climate Change
Since Ban Ki-moon runs the United Nations, he's altogether aware that we're making no progress as a planet on slowing climate change. He presided over the collapse of global-climate talks at Copenhagen in 2009, and he knows the prospects are not much better for the "next Copenhagen" in Paris in December 2015. In order to spur those talks along, he's invited the world's leaders to New York in late September for a climate summit.
But the "world's leaders" haven't been leaders on climate change – at least not leaders enough. Like many of us, they've attended to the easy stuff, but they haven't set the world on a fundamentally new course. Barack Obama is the perfect example: Sure, he's imposed new mileage standards for cars, but he's also opened vast swaths of territory to oil drilling and coal mining, which will take us past Saudi Arabia and Russia as the world's biggest petro producer.
Like other world leaders, that is, he's tried, but not nearly hard enough. Consider what he told The New Yorker in an interview earlier this year: "At the end of the day, we're part of a long-running story. We just try to get our paragraph right." And "I think we are fortunate at the moment that we do not face a crisis of the scale and scope that Lincoln or FDR faced."
—
Continue reading "A Call to Arms: An Invitation to Demand Action on Climate Change" on Rolling Stone's website.
---
Links
---
Media
In Nature's Wake: The Art and Politics of Environmental Crisis | March 25, 2015
The End of Nature a Quarter Century After