Amy Goodman
Posted in Past Guests | Tagged G-M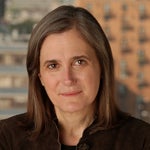 Amy Goodman is the principal host of Pacifica Radio's Democracy Now! Her recent book The Exception to the Rulers became a New York Times bestseller. Other books include Static: Government Liars, Media Cheerleaders, and the People who Fight Back, and Standing up to the Madness: Ordinary Heroes in Extraordinary Times. She has received the Robert F. Kennedy Journalism Award, the George Polk Award, and the 2008 Right Livelihood Award.
---
From The Exception to the Rulers
The troops marched slowly up the road, their U.S.-made M-16s in the ready position. It was November 12, 1991, a day that would forever be seared into my memory, and into history. I was in Dili, the capital of East Timor, a small island nation 300 miles north of Australia. East Timor had been brutally occupied by Indonesian troops for sixteen years, since they invaded in 1975. The Indonesian military had sealed off East Timor from the outside world and turned it into their private killing field. A third of the population — 200,000 Timorese — had died. It was one of the worst genocides of the late twentieth century.
I had just attended mass at the main church in Dili with Allan Nairn, journalist and activist, then writing for The New Yorker magazine. After the service, thousands marched toward the Santa Cruz cemetery to remember Sebastian Gomes, yet another young man killed by Indonesian soldiers. The people came from all over: workplaces, homes, villages, and farms. They traveled through a geography of pain: In almost every other building, Timorese had been held or tortured, disappeared or killed. Whether it was a police station or a military barracks, a hotel or an officer's house, no place was beyond reach of the terror. Not even the church was safe. It was about 8 a.m. when we reached the cemetery.
We had asked people along the way: "Why are you marching? Why are you risking your lives to do this?"
"I'm doing it for my mother," one replied. "I'm doing it for my father," said another. "I'm doing it for freedom."
---
Links
---
Media
Cry HAVOC! Poetry of War and Remembrance 1968-2008 | Monday, March 30, 2009
SYMPOSIUM I: Cry Havoc! Resisting Power in a Half Century of War
Seymour Hersh and Amy Goodman in conversation (With a Tribute to Father Daniel Berrigan, S.J)