I Am Troy Davis
Posted in Matters of Urgency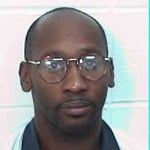 November 1, 2011
8:00 PM | Copley Formal Lounge
Join Lannan Center for a panel on the execution of Troy Davis and the death penalty. Speakers include Kimberly Davis, Troy Davis' sister; Lawrence Hayes, co-founder of Campaign to End the Death Penalty and death row exoneree; Jen Marlowe, author, activist and film maker; and Laura Moye, director of Amnesty International USA's Death Penalty Abolition Campaign. Each participant will give their perspective on death penalty policy and then answer questions from the audience. A reception will follow.
This event is free and open to the public.
Thanks to the Georgetown Solidarity Committee, Program on Justice and Peace and Georgetown University College Democrats for their support.
---
Links
Examining the Troy Davis Case
Note: You can watch the 4 part series Examining The Troy Davis Case here.
Video by Jen Marlowe Featuring Davis' sister, Martina Correia
---
Watch the Panel