Lloyd Schwartz
Lloyd Schwartz was born on November 29, 1941 in Brooklyn, New York.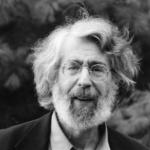 He graduated from Queens College of the City University of New York in 1962 and earned his Ph.D. from Harvard in 1976.
Schwartz's most recent book of poetry is Little Kisses, published by University of Chicago Press in April 2017. His other collections include Cairo Traffic (University of Chicago Press, 2000), Goodnight, Gracie (University of Chicago Press, 1992), and These People (Wesleyan University Press, 1981). He is also editor of two volumes of collected works by Elizabeth Bishop: Elizabeth Bishop: Poems, Prose and Letters (Library of America, 2008), which he co-edited with Robert Giroux, and Prose (Farrar, Straus and Giroux, 2011). Schwartz is also the author of Music In—and On—the Air (PFP, 2013), a collection of his music reviews that appeared on NPR's Fresh Air.
His poems, articles, and reviews have appeared in The New Yorker, The Atlantic, Vanity Fair, The New Republic, The Paris Review, and The Best American Poetry series. In 1994, he was awarded the Pulitzer Prize for Criticism.
Schwartz has taught at Boston State College, Queens College, and Harvard University, and is currently Frederick S. Troy Professor of English at the University of Massachusetts in Boston. He is also the senior editor of classical music for New York Arts and a regular commentator on NPR's Fresh Air.
---
In Emily Dickinson's Bedroom
A chilly light pervades the empty room
bringing neither its current nor former inhabitant peace.
Rather, its immaterial lingering infests
both the air inside and what we see of the grass
outside—brittle, brown, as if it wanted to avoid the sun.
Inside, the visitor must be respectful
and polite, evasive without actually telling lies.
Everything here seems hidden—is hidden—not
just the bricked-up chimney and plastered-over doorway. Any
clue—under the wide floorboards, behind the blocked entrance—
to the haunted chambers of a heart? Patches of verse, of
old wallpaper, the main street not yet a street. What industry
motivated those uncanny dashes—these shadows
still eluding our meager efforts to scrutinize.
–
Originally published in Poem-a-Day by the Academy of American Poets.
---
Media
Conversation and Reading | April 19, 2017