Layli Long Soldier
Layli Long Soldier received a BFA from the Institute of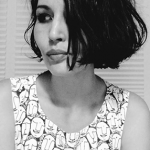 American Indian Arts and an MFA from Bard College. She is the author of WHEREAS (Graywolf Press, 2017), winner of the 2016 Whiting Award. Her other honors include a Lannan Literary Fellowship and a National Artist Fellowship from the Native Arts and Cultures Foundation. She teaches at Diné College and lives in Tsaile, Arizona.
---
From "WHEREAS"
WHEREAS a string-bean blue-eyed man leans back into a swig of beer work-weary lips at the dark bottle keeping cool in short sleeves and khakis he enters the discussion;
Whereas his wrist loose at the bottleneck to come across as candid "Well at least there was an Apology that's all I can say" he offers to the circle each of them scholarly;
Whereas under starlight the fireflies wink across East Coast grass and me I sit there painful in my silence glued to a bench in the midst of the American casual;
Whereas a subtle electricity in that low purple light I felt their eyes on my face gauging a reaction and someone's discomfort leaks out in a well-stated "Hmmm";
Whereas like a bird darting from an oncoming semi my mind races to the Apology's assertion "While the establishment of permanent European settlements in North America did stir conflict with nearby Indian tribes, peaceful and mutually beneficial interactions also took place";
Whereas I cross my arms and raise a curled hand to my mouth as if thinking as if  taking it in I allow a static quiet then choose to stand up excusing myself  I leave them to unease;
–
Continue reading "WHERAS" on The Poetry Foundation's website.
---
Links
---
Media
Seminar with Peter Balakian | October 17, 2017
Reading with Peter Balakian | October 17, 2017