Kamila Shamsie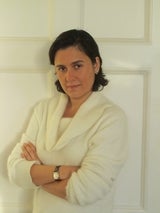 Kamila Shamsie is the author of six novels, most recently A God in Every Stone (Bloomsbury, 2015), which was shortlisted for the Baileys Prize, the Walter Scott Prize for Historical Fiction, and the DSC Prize for South Asian Literature. She is also the author of Burnt Shadows (Bloomsbury, 2009), which was shortlisted for the Orange Prize for Fiction; In the City by the Sea (Bloomsbury, 2004) and Kartography (Harvest Books, 2004), which were both shortlisted for the John Llewellyn Rhys Prize; and Salt and Saffron (Bloomsbury, 2002). Her novels have been translated into more than 25 languages, and three have won awards from Pakistan's Academy of Letters. In 2013, Shamsie was named one of Granta's "Best of Young British Novelists." She grew up in Karachi, attended university in the U.S., and now lives in London.
---
From Kamila Shamsie on Applying for British Citizenship: "I never felt safe"
There's a postcard on my fridge door in London, which a South African friend sent to me 18 months ago. A replica of a Puffin picture-book cover, it has an illustration of mountain peaks below which are emblazoned the words "Everest is climbed!" My friend had already climbed the same metaphorical mountain that I had just reached the summit of, and when she had reached the top she sat down and wept, much to the surprise of all her British friends. "I knew I could stay," she had told me, describing the emotion of the moment, "finally, I knew I could stay." I might not have wept, but I did turn wobbly-kneed and lean against my kitchen counter for support the day my letter arrived from the UK Border Agency to say I'd been granted Indefinite Leave to Remain (ILR) in the UK.
Five years previously, when I had entered the UK on a Writers, Artists and Composers visa I thought the road to settlement, and then citizenship, was flat and paved. As long as I could maintain myself financially, continued to work as a writer, and didn't break any laws, I'd be eligible for ILR in five years, and citizenship a year later. And then there would be a citizenship ceremony to end it all, which seemed a pleasant enough idea. I'm all for rituals to mark moments of significance. But I wasn't prepared for the mutable nature of immigration laws, and their ability to make migrants feel perpetually insecure, particularly as the rhetoric around migration mounted.
Continue reading "Kamila Shamsie on Applying for British Citizenship: 'I never felt safe'" at The Guardian.
---
Links
---
Media
The Canon: Do Countries Need a National Literature? | March 28, 2o17
The Sporting Spirit: Does Sport Unite or Divide? | March 28, 2017
Authors' Reading | March 28, 2017