Helon Habila
Helon Habila was born in Nigeria and studied English Language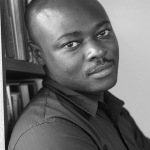 and Literature at the University of Jos. His most recent book is The Chibok Girls: The Boko Haram Kidnappings and Islamist Militancy in Nigeria (2016). In 2000, Habila published his first collection of short stories, Prison Stories. "Love Poems," one of the stories in this collection, received the prestigious Caine Prize for African Writing in 2001. His first novel, Waiting for an Angel (2002) won the Commonwealth Writers' Prize Best First Book. Habila's second novel Measuring Time (2007) was nominated for the Hurston/Wright Legacy Award, the Dublin IMPAC Prize, and it won the Virginia Library Foundation Prize for fiction, 2008. In 2010 he published Oil on Water, a genre mixing environmental political thriller, which has become an international bestseller. Oil on Water was nominated for many awards including, Pen/Open Book Award (shortlist, 2013); Commonwealth Best Book, Africa Region (Shortlist, 2012); The Orion Book Award (shortlist, 2013). Habila divides his time between his native Nigeria, and the U.S. where he lives with his wife and three children.
---
From "Beautiful"
There are two ways to enter Ajegunle: from the front, past the noisy market and the frenetic traffic facing the store-front displays of clothes and household wares; or from the back by boat over the dirty, shit-lined lagoon separating the ghetto from the Apapa Industrial neighborhood. I decide to go over the Lagoon. This access is closest to my office at Vanguard newspaper, about two bus stops away. Here you measure distance in bus stops, not in minutes or hours, because a ten-minute bus ride could end up taking over an hour. Like this one.
Our bus is hardly moving in the deafening, chock-a-block traffic that has something almost apocalyptic about it. God, if you get me safely out of this traffic, I'll never sin again.
I sit next to a fat lady who is eating corn on the cob with one hand, and with the other she holds a sack of groceries in her lap. She appears oblivious to the intolerable heat that is oppressing everyone else in the overcrowded bus. The danfo bus is cramped and smells of sweat and armpit and hair oil and food and, as if that isn't punishment enough, loud Fuji music blares out from a speaker located somewhere above, or below, but it feels like it's coming from deep inside my skull.
I am next to the open window. The lady is crushing me. I try to make myself smaller. I think thin. I turn my nose to the window for air only to find my view blocked by a sachet of water being thrust into my face by a hawker. Another hawker, a scrawny girl selling gala meat-rolls shoves the first hawker away and tries to push the pack of gala through the window.
"Oga, buy gala, fresh gala," she commands. The two hawkers are now squeezed between the bus and another bus in a noiseless combat of wills, and any moment now, they would be crushed by the converging buses. But the moment never comes; it is just another day in the office for them. It seems every space between bus and bus, and between road and curb, is alive with hawkers: young and old, male and female, selling wristwatches and cigarettes and groundnuts and sachets of water, also known as pure water, which is anything but. The 'pure water' is most likely obtained from their rusty bathroom taps at home, sealed in plastic sachets and sold by these girls to thirsty and tired passengers and pedestrians.
–
Continue reading "Beautiful" at Addastories.org.
---
links
---
Media
Seminar with Hari Kunzru | November 28, 2017
Reading with Hari Kunzru | November 28, 2017