Derek Walcott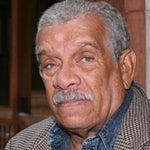 The 1992 Nobel Laureate and prodigal of the English language continues to astonish. Derek Walcott was born in 1930 in the town of Castries in Saint Lucia. After studying at St. Mary's College in St. Lucia and at the University of the West Indies, Walcott moved in 1953 to Trinidad, where he has worked as theatre and art critic. At the age of 18, he made his debut with 25 Poems, but his breakthrough came in 1962 with the collection of poems, In a Green Night. In 1959, he founded the Trinidad Theatre Workshop which produced many of his early plays. A MacArthur Fellowship and the Queen's Medal for poetry are among his many honors. He lives in St. Lucia and New York.
Bleecker Street, Summer
Summer for prose and lemons, for nakedness and languor,
for the eternal idleness of the imagined return,
for rare flutes and bare feet, and the August bedroom
of tangled sheets and the Sunday salt, ah violin!
When I press summer dusks together, it is
a month of street accordions and sprinklers
laying the dust, small shadows running from me.
It is music opening and closing, Italia mia, on Bleecker,
ciao, Antonio, and the water-cries of children
tearing the rose-coloured sky in streams of paper;
it is dusk in the nostrils and the smell of water
down littered streets that lead you to no water,
and gathering islands and lemons in the mind.
There is the Hudson, like the sea aflame.
I would undress you in the summer heat,
and laugh and dry your damp flesh if you came.
Links
---
Media
Black Archipelago: Writing and Performance from the African Diaspora | April 14, 2005
Donna Hemans, Merle Collins, Derek Walcott, Linton Kwesi Johnson, M. Nourbese Philip, Nate Mackey, and Kwame Dawes Panel
Panel: Part 1
Panel: Part 2
Black Archipelago: Writing and Performance from the African Diaspora | April 12-20, 2005
Derek Walcott Reading