Carmen Giménez Smith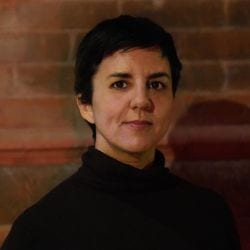 Born in New York, poet Carmen Giménez Smith is the daughter of South American immigrants. A CantoMundo fellow, she earned a BA in English from San Jose State University and an MFA in creative writing from the University of Iowa's Writer Workshop. She writes lyric essays as well as poetry, and is the author of the poetry chapbook Casanova Variations (2009), the full-length collection Odalisque in Pieces (2009), and the memoir Bring Down the Little Birds: On Mothering, Art, Work, and Everything Else (2010). Her 2013 collection Milk and Filth, was a finalist for the National Book Critics Circle Award. Cruel Futures is a volume in the 2018 City Lights Spotlight Series book. Her latest collection, Be Recorder (2020) was shortlisted for both the National Book Award and the PEN Open Book Award. Giménez Smith is the co-director for CantoMundo. She is a Professor of English at Virginia Polytechnic Institute and State University in Blacksburg, VA.
---
From "Post-Identity"
I was light from the mouth from every part of me
I was of the earth or a scar in the earth rent through
the ruins of late civilization and bubbled from it and
became a saint's reptilian spirit and I could taste
the wheat and coal and gold like a trinity of bounty
and I was vapor like a smog that becomes a wraith
over the city then back to its animal form decompressed
and atomized into its past life as star and I was that animal
truth the spirit I had dreamt about being more cloud
and star then given I was just the density of water
a reciprocity in and out the fade of my fugitive
substance going south and the yearn for decadence
disappears in the annals yet leaves a taste in the mouth
metallic and lime the sense of dissolution and I was speed
and insistence to reset the orb of gravity I was risen from foam
necessitated by colony sired in violence exported as luxury
–
Originally published in Poem-a-Day by the Academy of American Poets.
---
Links
---
Media
Readings & Talks Featuring Carmen Giménez Smith and José Olivarez (new window) | November 17, 2020