The Caine Prize for African Writing
February 27, 2018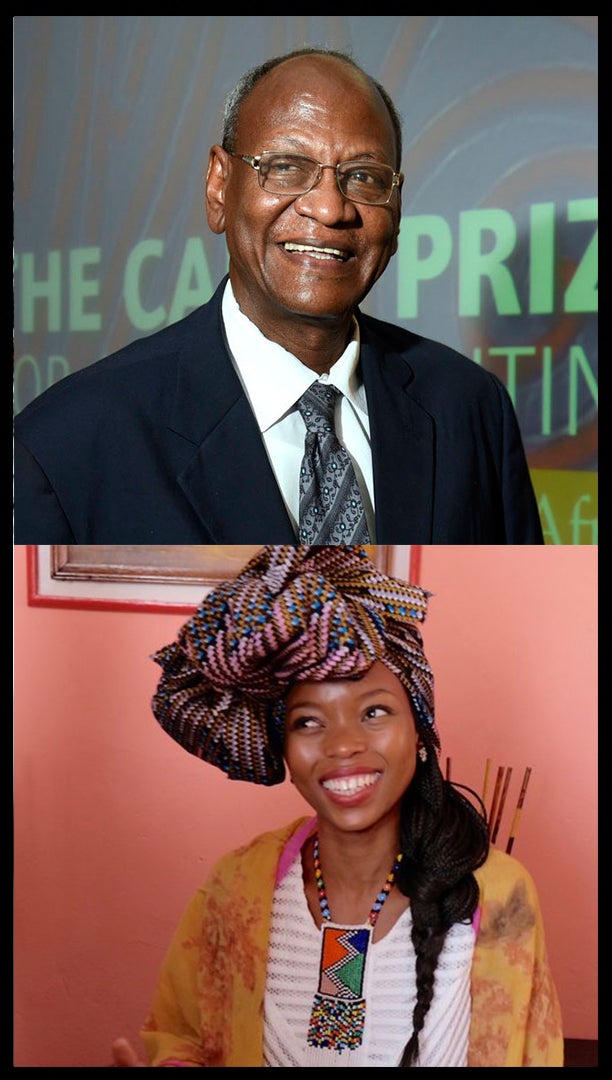 Seminar 5:30 PM | Lannan Center (New North 408)
Reading 8:00 PM | Murray Room (5th Floor, Lauinger Library)
Guests are required to show a government issued photo ID to enter the library.
---
From "The Story of the Girl Whose Birds Flew Away"
— Bushra Elfadil
Translated by Max Shmookler
There I was, cutting through a strange market crowd – not just people shopping for their salad greens, but beggars and butchers and thieves, prancers and Prophet-praisers and soft-sided soldiers, the newly-arrived and the just-retired, the flabby and the flimsy, sellers roaming and street kids groaning, god-damners, bus-waiters and white-robed traders, elegant and fumbling. And there in the midst, our elected representatives, chasing women with their eyes and hands and whole bodies, with those who couldn't give chase keeping pace with an indiscrete and sensual attention, or lost in a daydream.
I cut, sharp-toothed, carving a path through the crowd when a passerby clutched his shoulder in pain, followed by a 'Forgive me!' Then a scratch on a lady's toe was followed with a quick 'Oh no!' Then a slap to another's cheek, after which was heard 'Forgiveness is all I seek!' So lost in dreams I could not wait for their reply to my apology.
The day was fresher than a normal summer day, and I could feel delight turbaned around my head, like a Bedouin on his second visit to the city. The working women were not happy like me, nor were the housewives. I was the son of the Central Station, spider-pocketed, craning my neck to see a car accident or the commotion of a thief being caught. I was awake, descending into the street, convulsing from hunger and the hopeless search for work in the 'cow's muzzle', as we say. I suppressed my unrest. The oppressed son of the oppressed but despite all of that – happy. Could the wretched wrest my happiness from me? Hardly. Without meaning to, I wandered through these thoughts. The people around me were a pile of human watermelons, every pile awaiting its bus. I approached one of the piles and pulled out my queuing tools – an elbow and the palm of my hand – and then together they helped my legs to hold up my daily depleted and yearly defeated body. I pulled out my eyes and began to look… and look… in all directions and to store away what I saw.
I saw a blind man looking out before him as if he were reading from that divine book which preceded all books, that book of all fates. He kept to himself as he passed before me but still I felt the coins in my pocket disappear. Then I saw a woman who was so plump that when she called out to her son – 'Oh Hisham' – you could feel the greasy resonance of the 'H' in your ears. I saw a frowning man, a boy weaving an empty tin can along the ground with his feet. I saw voices and heard boundless scents and then, suddenly, in the midst of all of that, I saw her. The dervish in my heart jumped.1 I saw her: soaring without swaying, her skin the colour of wheat – not as we know it but rather as if the wheat were imitating her tone. She had the swagger of a soldier, the true heart of the people. And if you saw her, you'd never be satiated. I said to myself, 'This is the girl whose birds flew away.'
–
Continue reading "The Story of the Girl Whose Birds Flew Away" on the Caine Prize's website.
Read more about Bushra Elfadil
---
From "The Virus"
— Magogodi Makhene
You ask how it was when this thing started? Well. Have you ever seen a late summer flock, before flight? I mean, yes, I was there. But what you're asking of this ou kerel is like naming the very Book of Names. It just always was. Unless you read Genesis. Then you know that in the beginning were the children of God. The serpent's seed spawned also from the beginning, but from disgrace, which still marks the bobbejaan making themselves Baas nowadays. And it's the same between the simple kaffirs out here and the big ones that speak with you only in English.
Do you know I once heard a man who'd gone out there on some line of business, way out there–to some bush country in Africa, where civilization never made it past the birth canal–anyway this man told me life was so cursed out there they even have a sort of rabid disease that attacks you merely by speaking its name. I mean, if that's not God having something to say, then I don't know what.
But back to your question. Yes. I remember. We were used to a certain kind of visitor then, after the fall of the Republiek. Americans mostly. Some Australians. They all came here looking for something, something snuffed out where ever was home. To tell you the truth, I think a lot of them came here to puff out their chests, to look at old verkrampte Boers like me and feel themselves a more upright man. The rooineks were the funniest. They would stand behind the 2 cameraman, stepping back there between takes, on the prowl for this thing they have in the head about the veld and the Boer: irreligious kaffir-enslavers that we are, ploughing an open sea of arid farmland, blowing our nose through thick skin on bare fingers.
Then would come the questions. Statements really, alluding to our dying language and hopeless cause.
–A stand-alone Boer Republic? They would repeat.
–In South Africa? They'd ask again.
No, jou dom donner! In the moist warm farts of your Royal Highness. Dries Van de Duidenstee got so uptight with a reporter like this once, he marched the Englishman and his crew to the border of our town without even a water bottle between them for the whole trek back to the nearest dorp, forget to back home. We didn't see a visitor like that again for another while. Not until the Steenkamps sent an emergency signal, calling in for help. They thought they were under attack.
You will laugh now when you see the man mistaken an attacker, but it was nothing to laugh about in those days. The bobbejaans were out to finish the last white indigenous tribe of Africa, farm by farm. And there was nothing to stop it. Nothing. So we armed ourselves. Just like the old days. And we learned our people who the enemy was. How to finish him. We weren't laughing when we heard the Steenkamp's signal, my friend. Not with that news about Bertie Bezuidenhout already. About how it went with his family. 
–
Continue reading "The Virus" on the Caine Prize's website.
Read more about Magogodi Makhene
---
Listen to the Seminar
Watch the Reading