826DC Youth Writing and Publishing Fellowship (Applications Closed)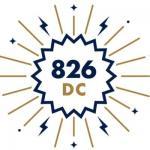 Must be a student enrolled at Georgetown University to apply.

Position Title: 826DC Publication Fellow
Reports To: Director of Education
Application Deadline: NOW CLOSED
Start date: August 1st (Flexible)
Compensation: $19.50/hour, 10 hours/week.
826DC is a nonprofit organization dedicated to amplifying the voices of DC youth through imaginative and skills-based writing education, as well as professional publication opportunities for our city's young writers. In 2020, 826DC celebrated its tenth anniversary. Since our doors opened in the Columbia Heights community in October 2010, our programs have served more than 25,000 students and published thirteen anthologies in genres ranging from poetry to personal memoirs, nonfiction realism to literary journalism, and much more.
As we look back on our vibrant first decade, we are excited to amplify these stories once again by publishing a ten-year compendium of selections of student writing from across our programs. This will serve as a companion piece to our first compendium, You Will Be Able To Say A Thousand Words (2016), which was released on our fifth anniversary.
The publication, scheduled for release in April 2022, will include stories, poems, and features across genres and years, all selected by an editorial board commissioned by 826DC.
The Publication Fellow for the 2021-2022 year will provide significant support for the execution of this publication in addition to supporting other 826DC publication and writing workshops as time permits.
Responsibilities
Recruit and manage editorial board for 10-Year Compendium
Curate 826DC student writing from our archives.
Support Director of Education and Executive Director with illustrator, designer and foreword writer recruitment and coordination.
Supporting planning and execution related to book release and distribution
Support curriculum develop as related to the 10-Year compendium, as appropriate
Adhere to 826DC's approach to working with and supporting students of all ages through positive youth development and experiential learning; support students who participate in 826DC programming with positive reinforcement, positive engagement and redirection.
Support other publication-oriented project management across programs as needed
Support execution of 826DC's strategic planning and programmatic growth goals.
Support 826DC external events and initiatives, as appropriate
Write appropriate and relevant content for 826DC's blog and website, as requested.
Under direction of the staff, reach out to families, schools, teachers, and community organizations about our programming via direct outreach, phone, and email.
Respond to and complete in a timely manner all emails and assigned projects/tasks.
Expectations:
Work independently to meet deadlines while also maintaining flexibility and adaptability to changing circumstances and situations.
Lead program activities and lessons, when appropriate.
Take direction from others and offer their own ideas and recommendations.
Ask for help, support, and resources when needed, and to speak up when they are not able to meet a deadline or complete a task or project.
Bring your unique personality to programming and our workspace.
Able to work with a diverse group of people and students.
Qualifications:
Graduate student at Georgetown preferred, undergraduates considered.
Interest in writing, the arts, education, nonprofits, youth development, etc.
Strong written and verbal communication skills.
Experience copy-editing and proofreading
Experience working with young people, either in a formal or informal setting (teaching, summer camp, workshops, tutoring, mentoring, babysitting).
Though not required, Spanish or other language skills are a HUGE plus.
Knowledge of InDesign, Issuu and other relevant design and publication software is a plus.
Working knowledge of Chicago MLA
Application Process:
Please send resume and cover letter to andrea@826dc.org with the subject line 826DC Publication Fellow. In your cover letter, please discuss why you want to work with 826DC, and what about your past experiences makes you a good fit for this position. 826DC will contact you if selected for an interview.
Applicants of all ages and backgrounds are encouraged to apply. 826DC is an affirmative action/equal opportunity employer, and strongly encourages persons of color, females, LGBTQIA persons, and persons with disabilities to apply for this position.
Georgetown University is an Equal Opportunity/Affirmative Action Employer fully dedicated to achieving a diverse team of employees. All qualified applicants are encouraged to apply and will receive consideration for employment without regard to race, color, religion, national origin, age, sex (including pregnancy, gender identity and expression, and sexual orientation), disability status, protected veteran status, or any other characteristic protected by law.