Bernardine Evaristo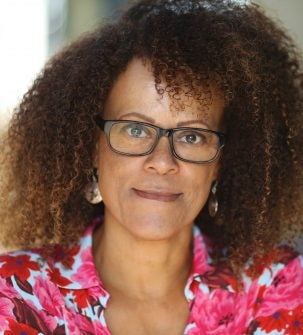 Bernardine Evaristo is the author of the 2019 Booker Prize-winning novel Girl, Woman, Other. Her numerous other works span the genres of fiction, verse fiction, short fiction, poetry, essays, literary criticism, and radio and theatre drama. Other fiction titles include Mr. Loverman, Blonde Roots, and Lara. Her writing is celebrated for its experimentation, daring, subversion, and challenging the myths of Afro-diasporic identities and histories. A staunch and longstanding activist and advocate for the inclusion of artists and writers of color, Evaristo has initiated several successful schemes to ensure increased representation in the creative industries. She is Professor of Creative Writing at Brunel University London.
---
From Girl, Woman, Other
By the grace of God
Bummi and Augustine migrated to Britain where he again could not find work befitting his qualifications
he settled into the seat of a minicab until he had saved enough money to set himself up in business (import-export)
and researched trade possibilities between Britain and West Africa via the sweatshops of Turkey, Indonesia and Bangladesh
sadly, London was more expensive than he had imagined, saving was impossible and when the Nigerian economy went on a downturn, he had to send cash transfers back home
*
Bummi and Augustine agreed they were wrong to believe that in England, at least, working hard and dreaming big was one step away from achieving it
Augustine joked he was acquiring a second doctorate in shortcuts, bottlenecks, one-way streets and dead ends
while transporting passengers who thought themselves far too superior to talk to him as an equal
Bummi complained that people viewed her through what she did (a cleaner) and not what she was (an educated woman)
they did not know that curled up inside her was a parchment certificate proclaiming her a graduate of the Department of Mathematics, University of Ibadan
just as she did not know that when she strode on to the graduation podium in front of hundreds of people to receive her ribboned scroll, and shake hands with the Chancellor of the University, that her first class degree from a Third World country would mean nothing in her new country
especially with her name and nationality attached to it
and that job rejections would arrive in the post with such regularity she would ritualistically burn them in the kitchen sink
and watch them turn to ash to be washed down the plughole
which is why when their daughter was born, they named her Carole without a Nigerian middle name
Continue reading Girl, Woman, Other on Literary Hub.
---
Links
---
Media
Bernardine Evaristo in Conversation with Maureen Corrigan | May 18, 2020