Special Event: Juan Gabriel Vásquez
Posted in 2019-2020 Readings and Talks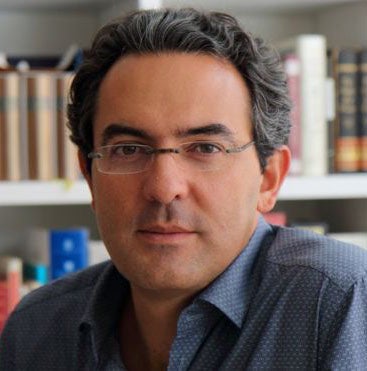 December 5, 2019
6:00 PM I Murray Room (5th Floor, Lauinger Library)
The Lannan Center for Poetics and Social Practice presents "Power and Language" with Juan Gabriel Vásquez in conversation with Marie Arana (Author and Director of Literary Initiatives at the Library of Congress).
*Please note that while this event is free and open to the public, a photo I.D. will be required for entry.
---
From The Shape of Ruins
I
The Man Who Spoke of Inauspicious Dates
The last time I saw him, Carlos Carballo was climbing with difficulty into a police van, his hands cuffed behind his back and his head hunched down between his shoulders, while a news ticker running along the bottom of the screen reported the reason for his arrest: the attempted theft of the serge suit of an assassinated politician. It was a fleeting image, spotted by chance on one of the late-night newscasts, after the loudmouthed assault of the commercials and shortly before the sports update, and I remember having thought that thousands of television viewers would be sharing that moment with me, but only I could say without lying that I wasn't surprised. He was arrested in front of the former home of Liberal leader Jorge EliŽcer Gait‡n, now a museum, where armies of visitors arrive every year to come into brief and vicarious contact with the most famous political crime in Colombian history. The serge suit was the one Gait‡n was wearing on April 9, 1948, the day Juan Roa Sierra, a young man with vague Nazi sympathies, who had flirted with Rosicrucian sects and often conversed with the Virgin Mary, awaited him as he left his office and shot him four times at close range in the middle of a busy street in the broad daylight of a Bogot‡ lunchtime. The bullets left holes in the jacket and the waistcoat, and people who know that visit the museum just to see those dark empty circles. Carlos Carballo, it might have been thought, was one of those visitors.
That happened on the second Wednesday of April in the year 2014. It seems Carballo had arrived at the museum around eleven in the morning, and for several hours had been wandering through the house like a worshipper in a trance, or standing with his head tilted in front of the books on criminal law, or watching a documentary with stills of burning tramcars and irate people with raised machetes shown repeatedly over the course of the day. He waited for the last group of uniformed schoolchildren to leave before going up to the second floor, where a glass case protected the suit Gait‡n was wearing on the day of his assassination, and then he began to shatter the thick glass with a knuckle-duster. He managed to put his hand on the shoulder of the midnight-blue jacket, but he didn't have time for anything else: the second-floor guard, alerted by the crash, was pointing his pistol at him. Carballo noticed then that he'd cut himself on the broken glass of the case, and began to lick his fingers like a stray dog. But he didn't seem too worried. On television a young girl in a white blouse and tartan skirt summed it up:

"It was as if he'd been caught painting on a wall."

All the newspapers the next day referred to the frustrated robbery. All of them were surprised, hypocritically shocked, that the myth of Gait‡n still awoke such passions sixty-six years after the events, and some made the comparison for the umpteenth time to the Kennedy assassination, the fiftieth anniversary of which had been marked the previous year without the slightest diminution of its power to fascinate. All of them remembered, in case anyone had forgotten, the unforeseen consequences of the assassination: the city set on fire by the populist protests, the snipers stationed on the rooftops firing indiscriminately, and the country at war in the years that followed. The same information was repeated everywhere, with more or less subtlety and more or less melodrama, sometimes accompanied by images, including those of the furious crowd, which had just lynched the murderer, dragging his half-naked corpse along the cobblestones of Carrera SŽptima, in the direction of the Presidential Palace; but on no media outlet could you find a speculation, as gratuitous as it might be, about the reasons a man who wasn't mad might have for deciding to break into a glass case in a guarded house and make off with the bullet-ridden clothing of a famous dead man. Nobody posed that question, and our media memory gradually began to forget Carlos Carballo. Swamped by everyday violence, which doesn't give anyone time to even feel discouraged, Colombians allowed that inoffensive man to fade away like a shadow at twilight. Nobody thought of him again.
It's his story, in part, that I want to tell. I can't say that I knew him, but I had a level of intimacy with him that only those who have tried to deceive each other achieve. However, to begin this story I must first speak of the man who introduced us, for what happened to me afterward has meaning only if I first tell of the circumstances in which Francisco Benavides came into my life. Yesterday, walking around the places in central Bogot‡ where some of the events that I'm going to explore in this report happened, trying to make sure once more that nothing has escaped me in its painstaking reconstruction, I found myself wondering aloud how I've come to know these things I might be better off not knowing: how I had come to spend so much time thinking about these dead people, living with them, talking to them, listening to their regrets and regretting, in turn, not being able to do anything to alleviate their suffering. And I was astonished that it had all started with a few casual words, casually spoken by Dr. Benavides inviting me to his house. At that moment, I thought I was accepting in order not to deny someone my time who had been generous with his own at a difficult moment, so the visit would simply be one more commitment out of the many insignificant things that use up our lives. I couldn't know how mistaken I'd been, for what happened that night put in motion a frightful mechanism that would only end with this book: this book written in atonement for crimes that, although I did not commit them, I have ended up inheriting.

Continue reading The Shape of Ruins at Penguin Random House.
Read more about Juan Gabriel Vásquez.
---
Listen to the Podcast