Namwali Serpell
Posted in 2015-2016 Readings and Talks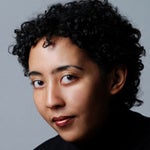 March 15, 2016
Seminar 5:30 PM in Lannan Center (New North 408)
Reading 8:00 PM in Copley Formal Lounge
---
From Muzungu
— Namwali Serpell
Isabella was nine years old before she knew what white meant. White in the sense of being a thing, as opposed to not being a thing. It wasn't that Isa didn't know her parents were white, although with her mother, this was largely a matter of conjecture. A layer of thick dark hair kept Sibilla's face a mystery. And even though as she aged, this blanket of hair turned grey then silver then white, a definite movement toward translucence, Isa never could properly make out her mother's features. More distinct were Sibilla's legs, tufts of fur running like a mane down each thick shin, and her strange laugh, like large sheets of paper being ripped and crumpled. Isa's father, the Colonel, was white but it often seemed as if pink and grey were battling it out on his face. Especially when he drank.
Her parents had settled into life in Zambia the way most expats do. They drank a lot. Every weekend was another house party, that neverending expatriate house party that has been swatting mosquitoes and swimming in gin and quinine for more than a century. Sibilla floated around in a billowy Senegalese boubou, sending servants for refills and dropping in on every conversation, distributing laughter and ease amongst her guests. Purple-skinned peanuts had been soaked in salt water and roasted in a pan until they were grey; they cooled and shifted with a whispery sound in wooden bowls. There were Tropic beer bottles scattered around the veranda, marking the table and the concrete floor with their damp semi-circular hoof prints. Full or empty? Once the top is off a Tropic bottle, you can't tell because the amber glass is so dark. You have to lift it to check its weight. Cigars and tobacco pipes puffed their foul sweetness into the air. Darts and croquet balls went in loopy circles around their targets, loopier as the day wore on.
Continue reading Muzungu at Callaloo.
—
Read more about Namwali Serpell 
---
Listen to the Seminar
Watch the Reading