Special Event: A Conversation with Chimamanda Ngozi Adichie
Posted in 2014-2015 Readings and Talks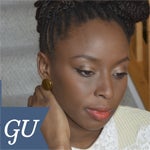 October 10, 2014
12:00 PM | Gaston (Healy Hall)
Doors open at 10:45 AM and close at 11:45 AM.
A Conversation with Chimamanda Ngozi Adichie, award-winning novelist.
Co-sponsored by The President's Office, The Lecture Fund, African Society of Georgetown.
About Chimamanda Ngozi Adichie
Chimamanda Ngozi Adichie was born in Nigeria. Her novel Half of a Yellow Sun won the Orange Prize and was a finalist for the National Books Critics Circle Award, and her novel Purple Hibiscus won the Commonwealth Writers' Prize and the Hurston/Wright Legacy Award. The Thing Around Your Neck, her collection of stories, was shortlisted for the Commonwealth Writers' Prize for Best Book in Africa. The recipient of a MacArthur Foundation Fellowship, she was recently named one of the twenty most important fiction writers under 40 years old by The New Yorker.
—
Must show GU ID for entry.
Admission is free and will be on a first-come, first-serve basis.
Line begins on the second floor of Healy Hall.
Enter through the south end of Healy Hall.
Do not bring bags, backpacks, briefcases, food or drink; such items will not be allowed in Gaston Hall.
Students, faculty or staff with a disability which requires special accommodations should email guevents@georgetown.edu by Wednesday, October 8.