Special Event: Political Women in the Americas
Posted in 2011–2012 Readings and Talks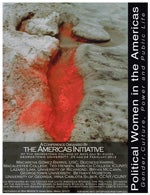 February 23 and February 24, 2012
Copley Formal Lounge
Presented by The Americas Initiative of the Georgetown College of Liberal Arts and Studies, Political Women in the Americas: Gender, Culture, Power and Public Life will bring together a group of mostly US-based, mid-career and rising scholars whose work explores the very contemporary dynamics of gender and politics as they specifically condition women's lives across the new world.
From the rise of the female heads of state in countries as various as Chile, Argentina, Brazil and Costa Rica, to the political fates of female former guerilla fighters in the Central American civil wars, to the impact of social and other new media technologies on women's political activism in countries like Cuba, to the emerging complications of political feminism from both the right and the left in the Obama/Tea Party-era US, the papers presented at the conference will focus on very specific, often regional, national and even local topics, and will at the same time in concert help us pose the larger hemispheric question: can we detect in what we see before us today something like a "New (World) Politics of Gender"? The conference is richly interdisciplinary, gathering scholars presenting fields as various as history, sociology, anthropology, American Studies, Latin American Studies, and Women's Studies.
Co-sponsors: Lannan Center for Poetics and Social Practice, the Center for Latin American Studies, the Political Database of the Americas, the Programs in American Studies, African American Studies, Women's and Gender Studies, and the Georgetown University LBCTQ Center
---
Event Schedule
All events take place in Copley Formal Lounge
Thursday, February 23, 2012
5:30 PM | Welcome/Brief Keynote
6:00 PM | Macarena Gómez-Barris, "La Política de Cristina: the Difference a State Makes"
Gómez-Barris is an Associate Professor of Sociology, American Studies and Ethnicity at University of Southern California and the author of Where Memory Dwells: Culture and State Violence in Chile (University of California Press, 2009).
7:00 PM | Bryan McCann, ""Dilma Rousseff and the Emergence of Women Leaders in Brazilian Politics"
McCann is an Associate Professor of History at Georgetown University and author of The Throes of Democracy: Brazil Since 1989 (Zed Books, 2008).
8:00 PM | Reception
Friday, February 24, 2012
9:00 AM | Breakfast
9:30 AM | Valeria Buffo, Brief Presentation on "Women & Political Participation in the Hemisphere"
Buffo is the Director of Georgetown's Political Database of the Americas.
10:00 AM | Irina Carlota Silber, "Building Peace From the Immigrant Margins: Postwar Lives of Salvadoran Revolutionaries"
Silber is an Associate Professor of Anthropology at CCNY/CUNY. She recently published Everyday Revolutionaries: Gender, Violence and Disillusionment in Post-War El Salvador (Rutgers UP, 2010).
11:00 AM | Ted Henken, "Creating Alternative Cyberspaces and Cyberpublics in Cuba: Elaine Diaz and Yoani Sanchez"
Henken is an Associate Professor and Chair in the Department of Black and Hispanic Studies at Baruch College (CUNY). He recently published Cuba: A Global Studies Handbook (ABC-CLIO, 2008).
12:00 PM | Lunch
2:00 PM | Bethany Moreton, "Market Value and Family Values"
Moreton is an Assistant Professor of History and Women's Studies at the University of Georgia. She recently published To Serve God and Wal-Mart: The Making of Christian Free Enterprise (Harvard UP, 2009).
3:00 PM | Lazaro Lima, "Sonia Sotmayor: An American Life After Multiculturalism"
Lima is the E. Claiborne Robbins Distinguished Chair in Liberal Arts and Professor of Latin American and Iberian Studies, and of American Studies at the University of Richmond. He is the author of The Latino Body: Crisis Identities in Amercan Literary and Cultural Memory (NYU P, 2007).
4:00 PM | Duchess Harris, "Black Feminist Politics from Kennedy to Obama"
Harris is an Associate Professor of American Studies at Macalester College and the author of Black Feminist Politics from Kennedy to Obama (Palgrave MacMillan, 2009).
5:00 PM | Reception with reading by Professor Jennifer Natalya Fink