Jorie Graham
Posted in 2011–2012 Readings and Talks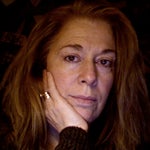 October 11, 2011
Seminar 5:30 PM | Lannan Center (New North 408)
Reading 8:00 PM | Copley Formal Lounge
---
Act III, Sc. 2
—Jorie Graham
Look she said this is not the distance
we wanted to stay at—We wanted to get
close, very close. But what
is the way in again? And is it
too late? She could hear the actions
rushing past—but they are on
another track. And in the silence,
or whatever it is that follows,
there was still the buzzing: motes, spores,
aftereffects and whatnot recalled the morning after.
Then the thickness you can't get past called waiting.
Then the you, whoever you are, peering down to see if it's
done yet.
Then just the look on things being looked-at.
Then just the look of things being seen.
—
From The Dream of the Unified Field: Selected Poems 1974-1994 (The Ecco Press, 1995)
Read more about Jorie Graham
---
Watch the Reading